Name: Shiranui Nara
Age: 15
Clan: Nara
Rank: Chuunin
Justu: Shadow Possession Jutsu, Shadow Strangle Jutsu, Fire Style Jutsus, Sand Coffin/Sand Barrial, Shadow Clone Jutsu, Leaf Style: Cresent Moon Dance, Water Style Jutsus
Weapons
1. Two Nara Family Katanas that she inherited form her mother, Both have "NARA" Emgraved in the blade.
2. Chakra Trait Gloves: A glove that amplifies the users chakra to its certain sigature. ((In my case, the art of manipulating shadows)) Always an Inherited weapon of her mothers.
Looks: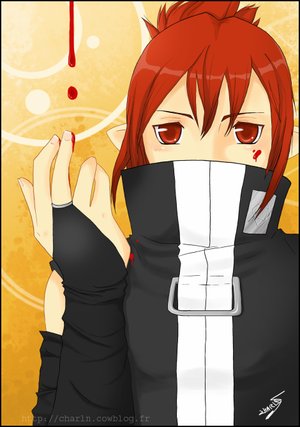 Eyes change color from blue to red when angery or sad....
Bio:
Shiranui is the daughter of Shinaru Nara, the older sister of Shikamaru Nara. ((Zakk....you should know who I am now O.<))
Age 6: Started at the Academy
Age 11: Graduated the academy top of her class becoming a Genin
Age 12: Her mother was murdered by Orchimaru in a battle with him
Age 14: Registered for Chunin Exams and Graduated to Chunin
Age 15: Strives to become stronger and become an ANBU
After losing her mother she was set with a heavy burden of following in her steps. She had admired her mother, growing up hoping she could make her proud and do the things she had. The downer is that she inherited other traits that wernt so good. Soon, a few years after her mom had died and she had become a Chunin she found that the curse mark her mouth had had been forming in her and being fifteen she also carries this poblem with her while trying to surpass all and live up to her mom. Also planning to avenge her mother.She keeps to herself, hardly opening to anyone. No one really likes her much because of that factor.